So I like camping alot, I love the outdoors, love the old campfire, the stories and the memories made doing so. I love the road trips getting to the campsite and just traveling in general. The huge pain in the bum is packing, pack the gear, pack the clothes, pack the food, if theres wheeling involved spare parts and more gear. Often times I would find myself unpacking just to head out the next weekend and do all the packing over again. Not to mention traveling with wifey and packing the dog in the cherokee was getting cramped.
So the wheels started turning and I thought about a small pop up, could store some gear in it. Maybe even throw bikes or the kayaks on the roof. Something I could do some long range travel with, take that trip to Eagle Lake up in Maine, maybe go further north up to Nova Scotia and travel the Cabot trail...who knows maybe someday the Labrador Highway.
After a little convo with wifey, Brianna shared some of her experiences with her family traveling across the country with one in tow. Blow outs often at highway speeds and mold issues quickly squashed that idea. Plus I wanted something that I could do a little offroad exploring with and something that wouldn't fall apart.
I started exploring the options of strengthening the frame and axle of a pop up and came across the ExpeditionPortal. What a great site for camping, fourwheeling and expedition outfitting. I quickly was hooked.
I scratched the idea of a pop up and quickly liked the looks of a 1/4 ton military trailer. I could throw a lid on and find a roof top tent to mount on it I would be good to roll.
Found an old m416 on craigslist after months of searching online for a few hundred buck delivered to my door. It was still in camo with little rust and looked similar to this.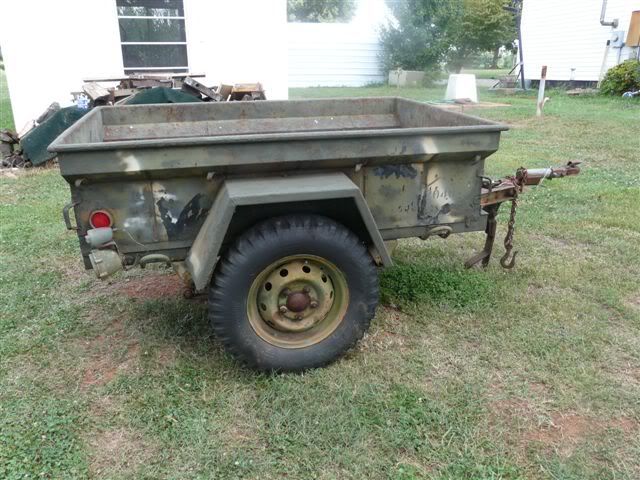 After some grinding, some sanding a new set of shocks and some herculiner I had a decent foundation for a build. I had some plywood around the house, some 2x4,screws and foam gasket window sealer. I through a lid together pretty quickly for no money spent. I hit the junkyard, found some lift struts from a cherokee and a kia mini van and I had a lid that took no effort to lift and would stay open on it's own. I also found a roof rack with a yakima rack on it from the junk yard and was able to lag in racks to my lid on the m416. After a few months I found a roof top tent as well and I was super excited about the end result. I felt the lid could be made of metal in the future and sured up so things would be more secure. Some pictures below.